One day when I was about eight years old, my father, standing in the front door, said to me, "Son, come take a look at this." I stepped out onto the sidewalk, looked up, and saw that our basswood tree (which was really five genetically identical, mature basswoods, from one original,) had turned orange. It took me a moment to understand what I was looking at. There were 30,000 monarch butterfly, resting on that tree, fluttering their wings; as a chorus.
As marvellous as that was, I think I thought, that is what happens to people: tens of thousands of monarch butterflies stop and rest on a tree in their yard. I looked for them every year after that, but they never came back. Not like that.
As an adult, I have planted butterfly-friendly flowers wherever I could. My garden has 200 species of plants, many of which are butterfly friendly, especially liatris, blazingstar. Three summers ago, one of my liatris had peaked, standing almost six feet tall, six stems fully flowered; from sunrise until sunset, 40 monarch butterfly feasting, at any given time, for most of the month of August. (People stopped by to film it, I heard; I wish I had; no money no camera.)
I have scattered common milkweed seed in this garden, by the bedroom, because it smells great; which common milkweed, monarch butterfly lay their eggs on, the leaves of which are the only thing the caterpillar will eat (common milkweed makes the monarch caterpillar and butterfly toxic to predators.)
For some reason, swamp milkweed thrives in my garden, which is attractive to the mature monarch butterfly, but not so much to the larvae; the common milkweed didn't take, at least not where I scattered it. It popped up in a place I didn't scatter the seed; unfortunately, where it doesn't get enough sun to bloom, shaded as it is by the neighbor's looming, aged silver maple dooming my house, and the elderberry in the corner, by the garage and the fence (keeping watch).
Last summer, 2013, I saw a monarch butterfly most days, into September. Usually only one at a time though. I rejoiced the few days I saw two at a time. One time, two summers ago, I saw a pair mating, which they did while the female was flying, the male hanging upside down, under her, like a rudder (of a ship on the sea.) They fluttered back and fourth through the garden at least six times (nowhere else in the neighborhood so friendly.) Last year, their numbers were down Continent-wide, throughout the season. This winter, 33 million over-wintered in their forest resting places, in central Mexico. Historically, there are more than a billion.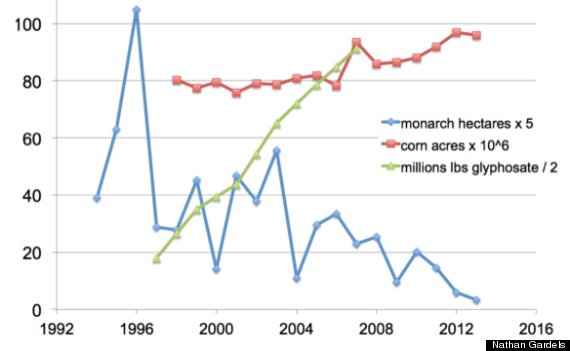 I only saw as many as I did in 2013, as my garden is surrounded almost entirely by wasteland, which makes my garden an oasis. Yes, I am in the midst of a 3-million person metro; from a butterfly perspective, it is a wasteland.
Not as much the wasteland America's "breadbasket" has become. Wherever corn is grown, and corn is grown intensively from central Mexico to South-central Canada, is hostile territory to monarch butterfly. That's a long way to have to travel, everywhere toxic pesticides/herbicides, roads like an automated river of air full of deadly projectiles, nothing to eat. Add to that, last year, severe drought in Texas and Oklahoma, northern Mexico. (Severe drought this year in California.)
Monarch, leaving their heavily logged over-wintering rest, in the mountains of central Mexico, are not the monarch that return to Mexico. It's the fourth generation that returns to Mexico; the first breeds in northern Mexico, Texas lower breadbasket, bayou, dies; second generation flies to the upper Midwest, central valleys, rust belt, Atlantic coast, breeds, dies; third generation hangs around, as far as southern Canada, heads south, breeds again wherever they are, die; fourth generation catches the high winds and heads for central Mexico (aggressively-logged) highlands.
If any of these stages are interrupted, their numbers drop. Which hasn't been too much of a problem, the last 10,000 years at least (since the end of the last ice age); until humans got it into their heads that it doesn't matter what we do to the earth, 7+ billion of us now, 320 million here in America in the most turbo-charged of all nation states...
Drought in northern Mexico, Texas, Oklahoma has alleviated, somewhat. The central breadbasket is worse every year, for toxicity and loss of butterfly/wild habitat; they are forced to follow rivers, from city to city, where they can still find a few edible flowers. There has been some planting along roads, but then, they get hit by vehicles. Most people plant flowers that are great for GDP, super showy, for ego - of little use to butterflies. And city people esp in the suburbs, love their pesticides. Add in vehicle exhaust, coal burning; they have to breathe the same air we do. If you know health care is 20% of GDP, you might imagine monarch butterfly are a bit more sensitive.
Then of course you have international finance in control of most of the breadbasket/growing places; all that free QE money (same way they are trying to take the Ukrainian breadbasket; that and debt; you control the food, you control the people.) George W. Bush returned millions of acres of fallow, semi-wild CRP land (Conservation Reserve Program), to big ag, GMO corn, and broad spectrum poisons, esp Monsanto Roundup glyphosate. Obama acts
more like a monarch
than a butterfly. EPA?; see aforementioned International finance, bank, corporation, Monsanto etc.
In other words, the monarch butterfly is on the verge of extinction.
More horrific than that - the monarch butterfly going extinct - who cares (if the 23 people making 35 comments to this
article
is any indication?) Stupid bugs. Congratulations Science, Church, Commerce, you have successfully separated people, psychologically, from the natural systems all life depends upon.
Monarch butterfly extinction, would break a lot of hearts. Including mine. And, canary-in-the-coal-mine extraordinaire, THE bellweather: it would be clear at that point, esp if people are mostly indifferent, this megalith we call civilization, will collapse before it will question BAU, Leviathan, Great Beast, even unto all species extinction, even unto our own...(as if Fukushima isn't canary enough.)
I hope that doesn't happen, either the extinction of the monarch butterfly, or the extinction of people. So, in good faith, plant flowers that monarch butterfly need, if you are in their path; any flowers with nectar; there are all kinds of butterflies, moths, bugs that need flowers, people too; the best way to fight bad bugs is with good bugs, lots of flowers/habitat. LOL. Plant flowers wherever you can, anybody. If the monarch butterfly survives, it won't be because of big banks, big corporations, or big government. It will be people,
casting seed, tending flowers
, even housing the caterpillar or the chrysalis,
to keep it safe
.
Which is where I have failed the monarch butterfly, insofar as I didn't save any milkweed seed last fall, when I could have. Floating about, with it's parachute-like filigree, in the fall (I know two places close by.) Hard to find in the spring, the seeds scattered.
I'm planting several gardens this spring. Here, @ Off The Grid in Minneapolis; the second, surrounded by corn; the third, urban like this, but wilder and younger. Fruit trees and big gardens, grape vines, berry canes; even citrus.
If you have any common milkweed seed, let me know. (Maybe besides good monarch butterfly habitat we need to create good people habitat too...)